We have extensive experience defending drug crime charges in Washington state.
When you are charged with any kind of criminal drug crime in Vancouver, you want a team of criminal defense lawyers on your side that has your best interests in mind. You need experienced representation that not only knows the law, but understands how to analyze the facts. During this tense time, you should be able to take comfort in knowing that your attorney is devoted to protecting your rights, your record and your future.
Our team of former prosecutors have years of experience on both sides of drug crime charges.
Our criminal defense attorneys operate this way. As former prosecutors, we know how opposing counsel handles these cases. We have earned their respect from our time working alongside them and now as tenacious defense advocates they face in and out of the courtroom.
We understand how to analyze every detail of a criminal drug charge case, no matter what the charge or type of drug/controlled substance involved, such as:
Heroin
Fentanyl
Cocaine
Marijuana/cannabis
Methamphetamines (aka "meth" or "ice")
Prescription drugs such as OxyContin
Psilocybin mushrooms (aka "Magic")
Rave drugs (LSD, Ecstasy, Molly, Acid)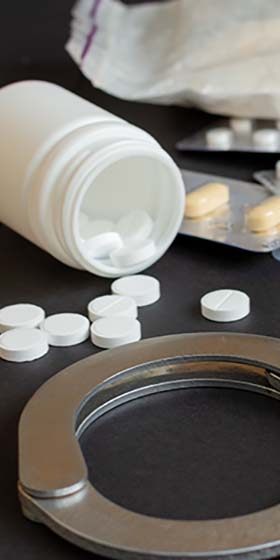 Top-rated defense in the courtroom that you can trust.
How does our team handle drug crime charges?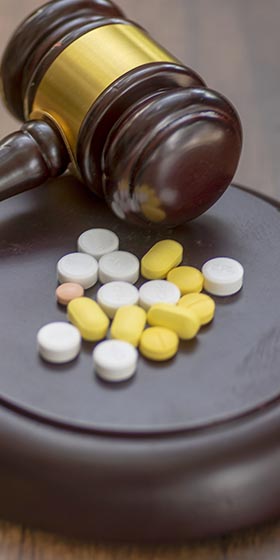 Our drug defense attorneys handle all types of narcotics cases involving:
Drug-related DUI
Drug possession
Manufacturing
Intent to deliver
Sales
Producing and distributing drug paraphernalia
Operating a marijuana grow house
Trafficking
Dispensing marijuana or a controlled substance illegally
Conspiracy
In criminal drug charge cases, we know there are often search and seizure issues that demand detailed analysis. We will scrutinize the warrant issued as well as anything found that leads to the case against you. If evidence is collected improperly or your rights were violated, you can count on us to uncover this and aggressively prove it in court. If the police made any mistakes, we will take steps to expose it and get the evidence suppressed.
"Passionate, confident, honest, and Above all gets results. If you are ever in trouble from a DUI, or any lawful matter, And you want results call Jack Green, he will leave no stone unturned to get you result."
G. A.
Our experienced team will rigorously defend your drug crime case in court.
We know what needs to be proven under Washington law for any type of criminal drug charge. If the prosecution fails to make its case, we will highlight the gaps. Through our thorough investigation techniques and passionate trial advocacy, our goal is to always minimize the consequences of the criminal drug charges you are facing and any impact it may have on your life. When you are represented by Green & Ritchie, PLLC, our legal team will work with you every step of the way so you always know the status of your case and are involved with every decision.